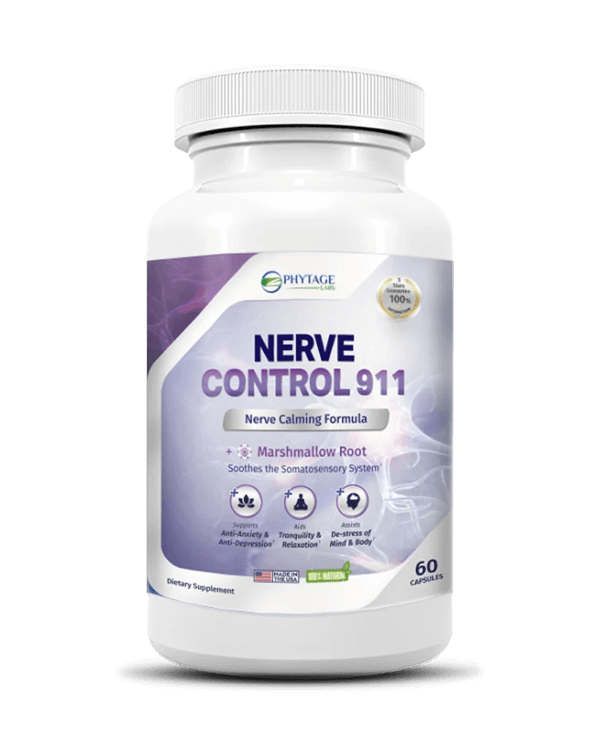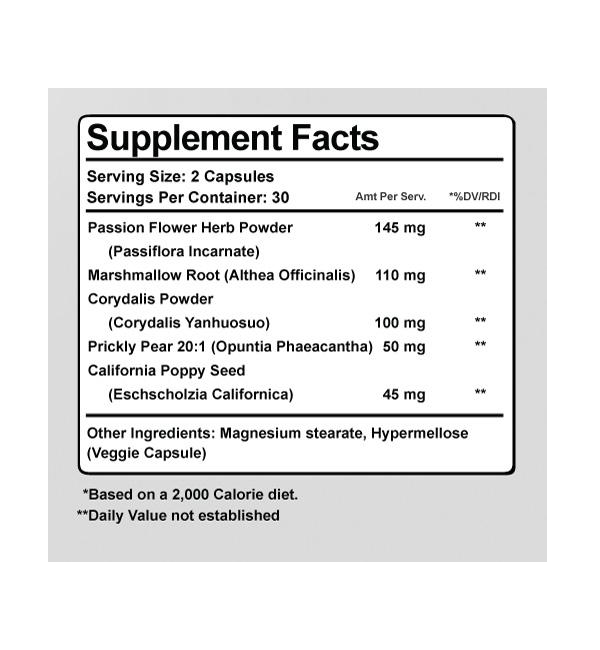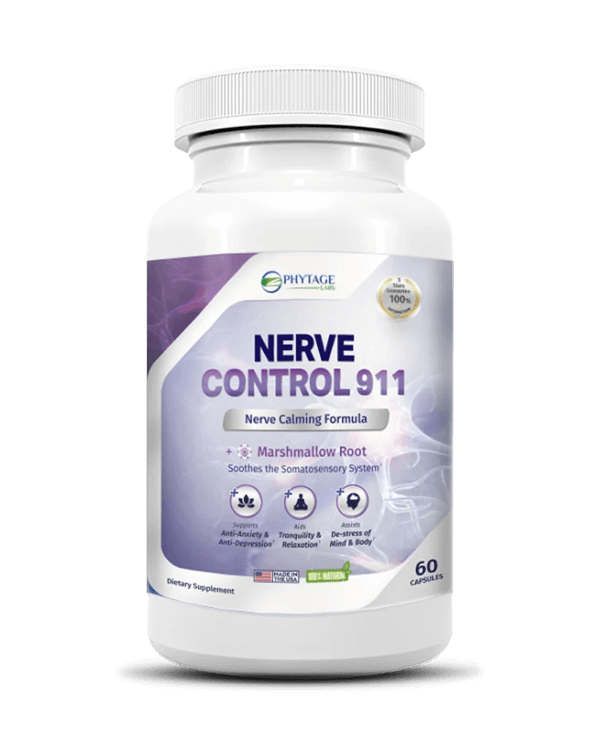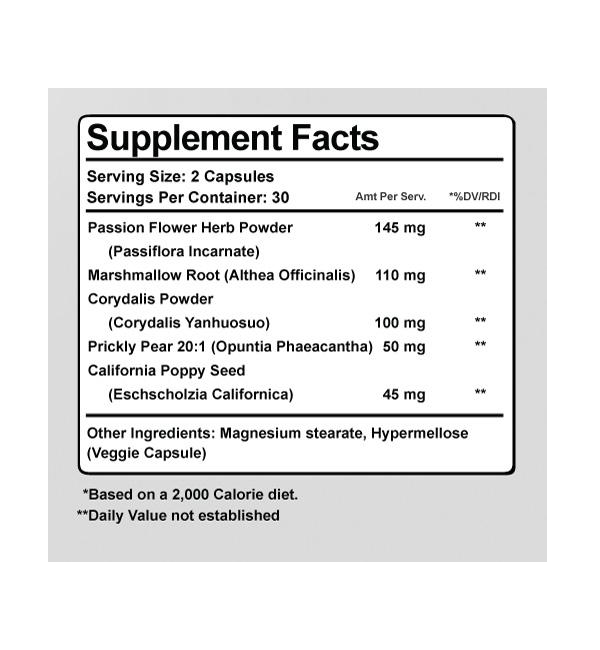 Nerve Control 911
Central Nervous System Protection Formula
Created by the team at PhytAge Laboratories, Nerve Control 911 is an organic health supplement designed to improve the health of your nervous system. Formulated with Marshmallow & Passion flower, which helps optimize the function & central nervous system to deliver a wide array of health & wellness benefits. Many of the top nervous system health benefits include:
Reduces anxiety, stress, & depression symptoms
Supports deep relaxation & tranquility
Improves blood flow
Reduces nervous system inflammation and nerve pain.
Supports daily pain-relief & comfort
Select Your Quantity
The PhytAge Labs Promise
All
Natural
Cruelty
Free
Money-Back
Guarantee
Made In
USA
Giving
Back
Non
GMO
About Nerve Control 911
Curbs insomnia, calms anxiety, reduces pain
The central nervous system is central to our body's health and wellness, regulating key functions that impact our daily living. However, neuropathy, (nerve damage) or free radicals introduced to the nervous system can cause a variety of health problems. When your nerve cells are damaged, you may experience numbness, tingling, cramps, or muscle twitching. Since your nervous system affects practically every function in your body, damage to your nerve cells can affect your overall health.
Nerve Control 911 includes a blend of herbal extracts that support the healthy transmission of information between the nervous system and the rest of the body. Regular supplementation aids with reduced body-wide inflammation, deep relaxation, sleep support, improved mood patterns and chronic pain relief.
Buy Now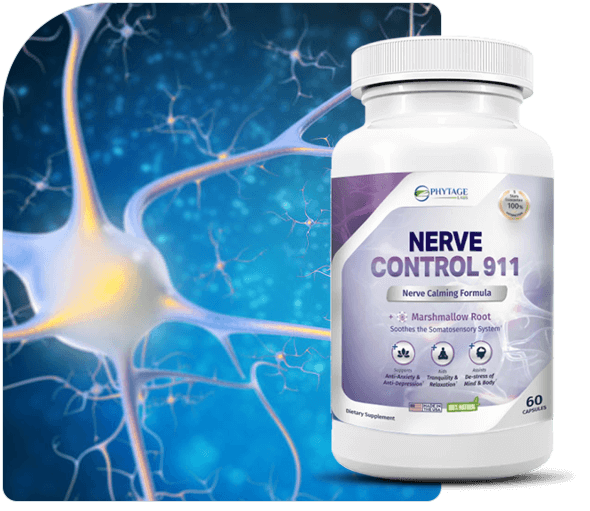 Nerve Control 911 Benefits
Ingredients in our all-natural formula have been known to offer the following benefits: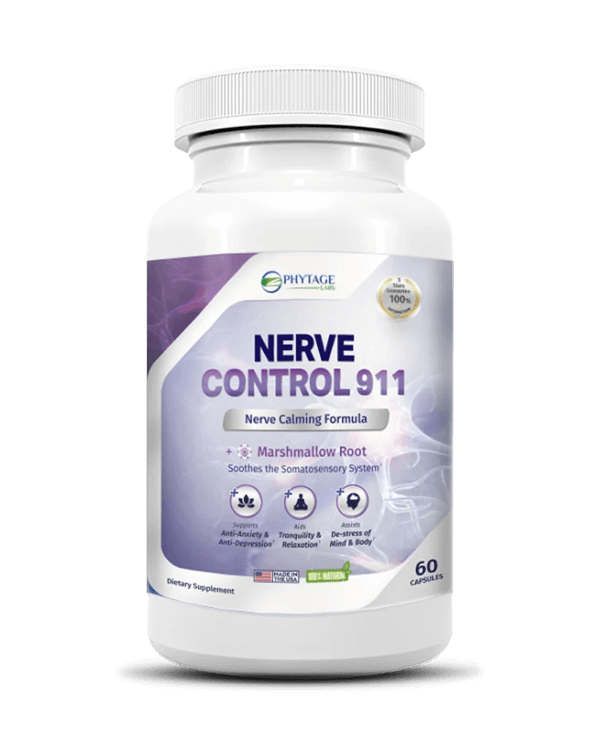 Reduces Body-Wide Inflammation

Stimulates an anti-inflammatory response across the body, reducing pain as well as symptoms of other inflammatory conditions such as certain skin issues.

Provides Pain Support

By targeting the root cause of pain - inflammation - and revitalizing damaged nerves, it provides natural pain support throughout the body.

Supports Deep Relaxation

Curbs anxiety levels to support deep relaxation & tranquility while improving mood patterns throughout the day.

Supports Healthy Sleep Cycles

Relaxes the mind and body to support a restful night of sleep, helping you wake up feeling fresh and energetic.
Buy Now
Made With
All Natural Ingredients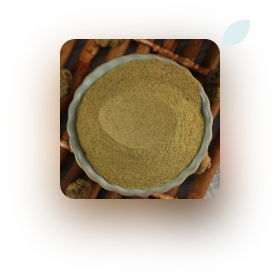 Corydalis Powder
An ancient Chinese herb that has shown great promise in reducing inflammation and repairing damaged cells. It works along with the other ingredients in the formula to reduce pain symptoms.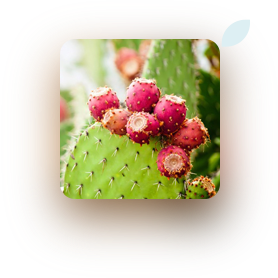 Prickly Pear Extract
A part of the cactus family, the extract from this fruit may help repair damaged nerve tissue to support the health and functioning of the central nervous system.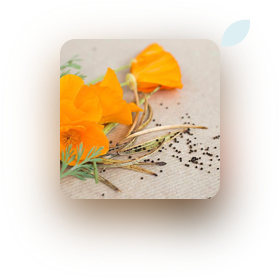 California Poppy Seed
The extract from this flower offers a safe & non-habit forming pain support, helping you get back to an active lifestyle while relieving nerve pain naturally.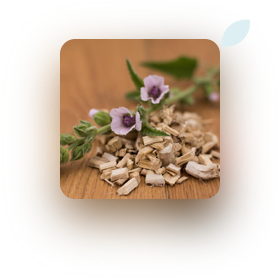 Marshmallow Root
Helps relax the mind and body, reducing symptoms of stress, anxiety and depression and supporting healthy sleep cycles. A bonus is that it also helps reduce dermal inflammation to support clearer, smoother skin.
View Full Ingredients List
View Clinical Research
Buy Now
Other Products You May Like