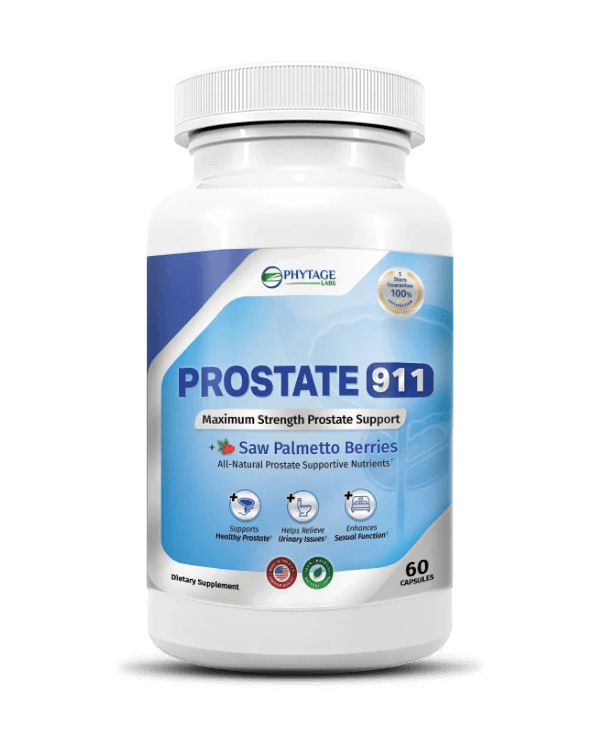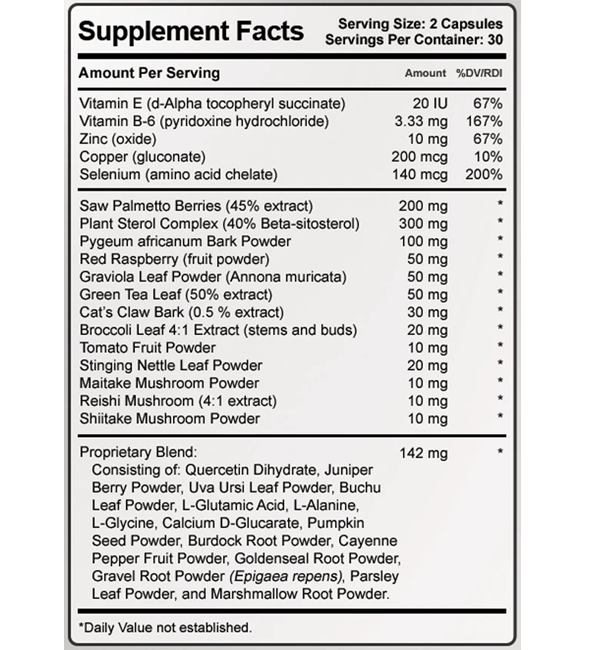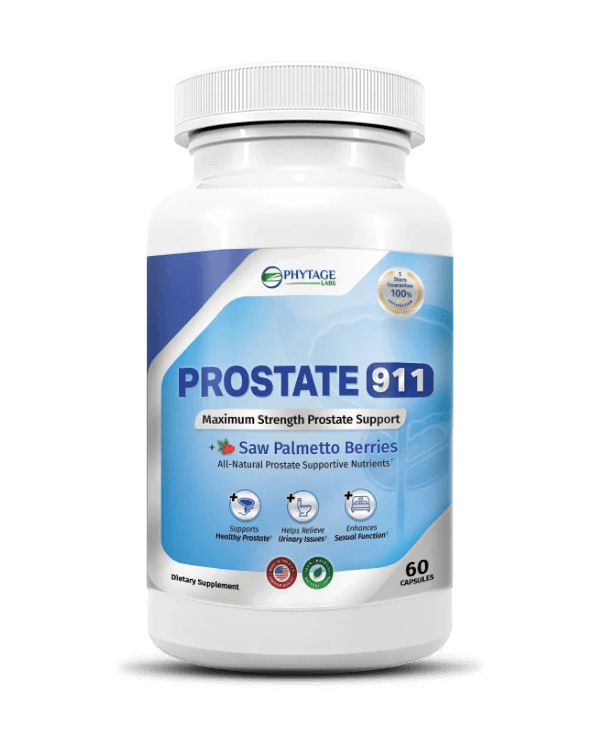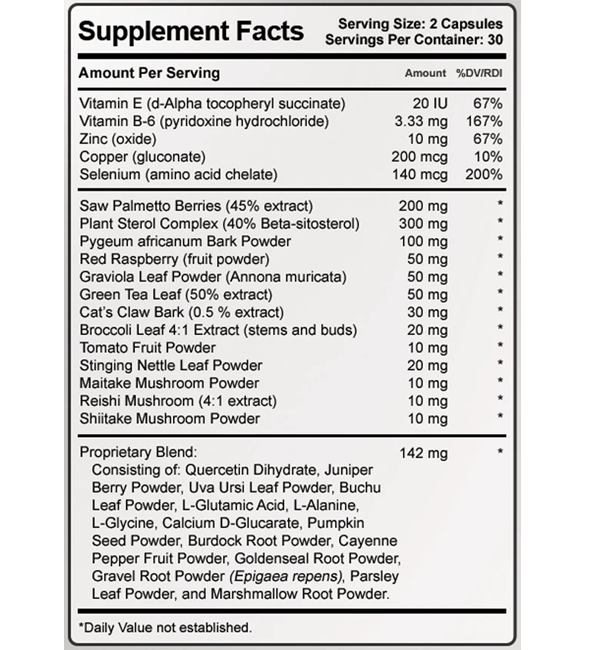 Prostate 911
Prostate & Urinary Health Formula
Prostate 911 is an organic health supplement formulated to help treat symptoms of an enlarged prostate & urinary incontinence. Our formula gives you great control & comfort. It also helps you enjoy better sleep & more energy while improving your sexual drive & performance.
Restores healthy prostate size
Improves bladder control & comfort
Reduces urinary incontinence
Supports male virility & sexual wellbeing
Select Your Quantity
The Phytage Labs Promise
All
Natural
Cruelty
Free
Money-Back
Guarantee
Made In
USA
Giving
Back
Non
GMO
About Prostate 911
Prostate support for urinary health & virility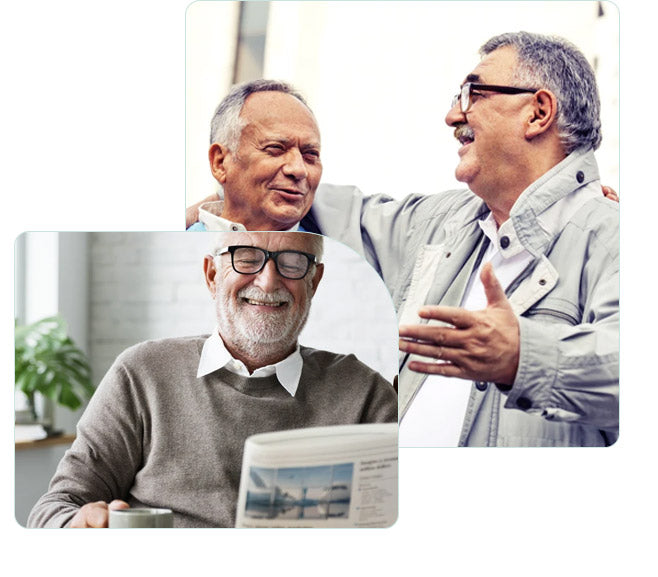 An enlarged prostate can lead to male health issues including the need for frequent urination, erectile dysfunction, poor sexual performance & even rapid hair loss in some cases.
Prostate 911 is formulated with a blend of herbal extracts and essential vitamins & minerals which have been proven to restore a healthy prostate size. This helps you have more bladder control, reducing urination frequency, urgency and embarrassing accidents. It has also shown effectiveness in improving male virility & sexual performance.
Since Prostate 911 is an organic health supplement, not medication, you don't have to worry about potential side effects. Our dietary supplements are as safe as taking a daily multi-vitamin. Taking an all-natural health supplement like Prostate 911 is the safe and effective way to improve your prostate health.
Buy Now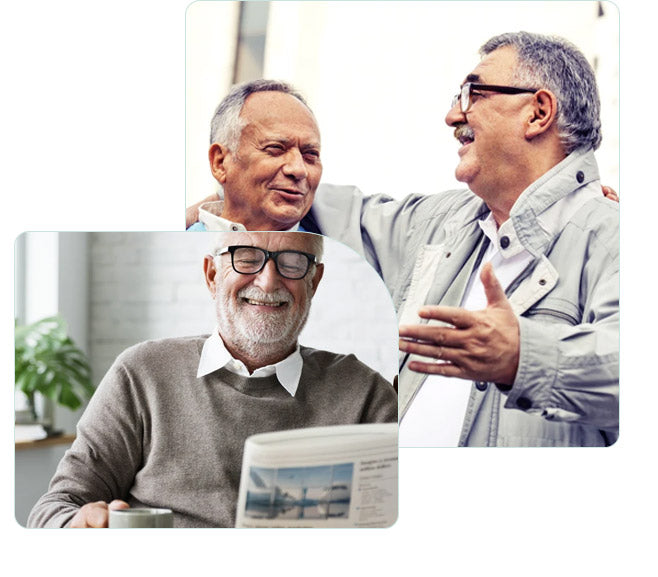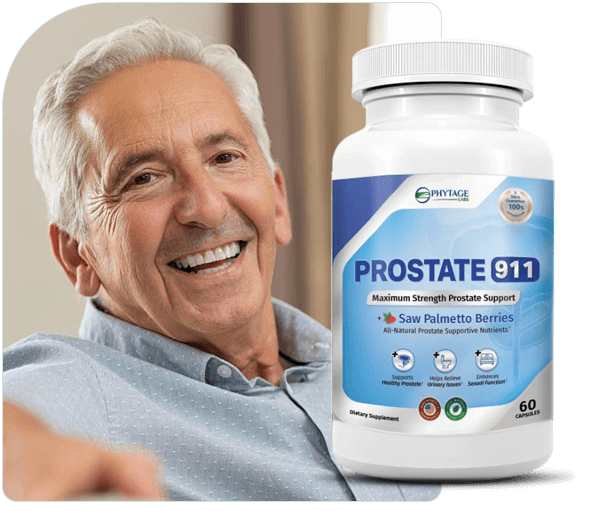 Prostate 911 Benefits
Ingredients in our all-natural formula have been known to offer the following benefits: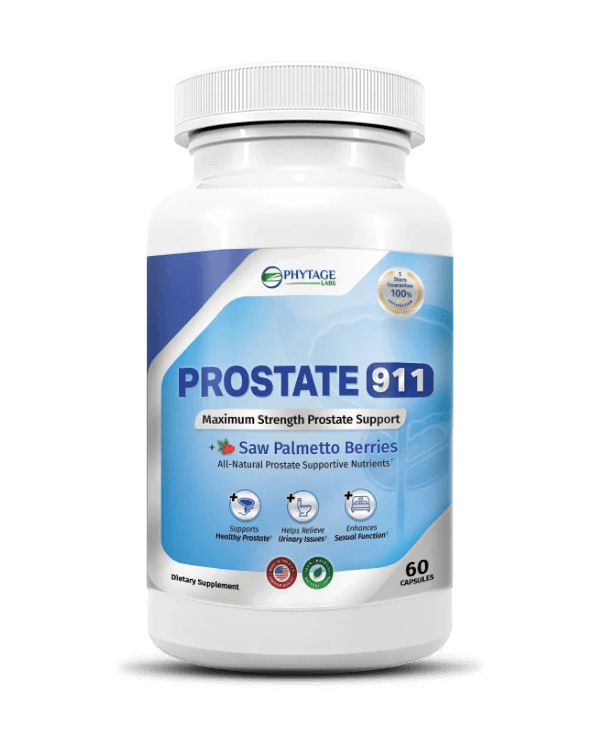 Restores Prostate Health

Restores the prostate gland to its healthy size (25 ml volume) while reducing inflammation.

Improves Bladder Control

Facilitates better control and complete bladder emptying to reduce the frequency of bathroom visits.

Boosts Sexual Health

Stimulates healthy erectile function & response while also restoring libido so you can enjoy improved performance.

Supports Urinary Health

Reduces the risk of Urinary Tract Infections (UTIs), inflammation & kidney stones.
Buy Now
Made With
Prostate 911 Ingredients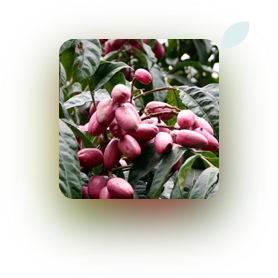 Pygeum
Extracted from the bark of the African plum tree, it is known to reduce prostate inflammation. It also helps support complete bladder emptying to prevent frequent bathroom trips.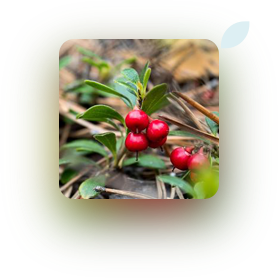 Uva Ursi
Helps protect the prostate cells from oxidative damage caused by free radicals, which are rogue molecules that, if left unchecked, can enlarge the prostate.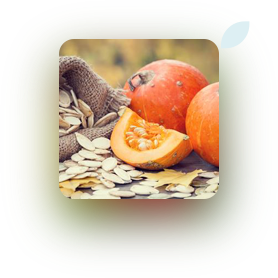 Pumpkin Seed
A rich source of Omegas 3 & 6 plus Vitamins E & K, it helps support healthy prostate size. It also reduces urinary incontinence by supporting normal urinary flow.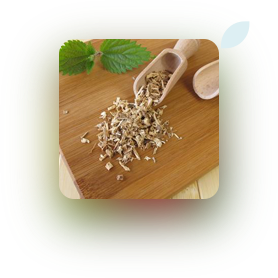 Nettle Root
Offers what is known as the "irrigation-therapy" agent for the urinary tract, preventing infections, inflammation & kidney stones. It is also known to help support male virility & vigor.
View Full Ingredients List
View Clinical Research
Buy Now
Frequently Asked Questions
Buy Now
Learn more about Prostate 911 prices and how you can begin your journey toward better prostate health.
Other Products You May Like